Rustic Area Rugs
Rustic area rugs are the perfect way to add rustic, farmhouse and country charm to a home. Whether they are placed in the entrance-way to greet visitors, or situated in a living room, dining room, kitchen or bedroom, they add warmth and visual interest.
Rustic area rugs also add color, pattern, and texture and work towards creating a 'finished' feel in the overall design aesthetic. They have a way of bringing together all of the separate elements in a room and can be used to tie in all of the colors used in the surrounding décor and furniture.  Area rugs also instantly make a room look connected and cohesive. They are a common addition to hard-surfaced floors and look exceptionally beautiful over hardwood floors or tiles. 
They have a grounding aspect as well and can be used to anchor the furniture in a room. A properly placed area helps to create a cozy and intimate space. Often viewed as works of art, many woven styles can be placed on walls to add further beauty. Whether you are using rustic rugs as a bold focus for the room, or to unify the color scheme, they add a cozy element that acts as another decorating layer in the home. Combined with decorative pillows, chunky throws and coordinating artwork, they lay the foundation for a warm and inviting rustic retreat.
Browse through a collection of rugs in gorgeous earth-tone shades. From rust-reds to olive greens, browns, and tans all will make a dramatic impact in your rustic decorating theme. Be sure to take into account the tones in your flooring, walls and surrounding décor when making your selection.
Placing area rugs in your home as opposed to wall-to-wall carpeting allows for more flexibility. They are a good choice If you love your hardwood floors but would like to add some warmth and decorative interest. They are also easier to clean and easier to change up if you feel like something new.
An intriguing and decidedly modern style carpet - a style that was hand-woven of top quality wool in Afghanistan. This exciting and unique composition boasts a captivating geometric composition that draws the eye ever closer. Appealing from any angle, this unique and inventive style is an eye-catching example that beautifully showcases some of the finer and more intriguing elements of modern design. This style is a unique and dynamic work that is sure to delight and the unique trait about this thin rug is that it is reversible.
How to Choose a Rustic Area Rug
Color & Pattern
The right color choice of an area rug can make or break a room. As an interior designer, I often choose the area rug first when designing a space. Although it may seem like a backward approach, I find it to be incredibly useful. It can create a cohesive design that provides the opportunity to choose the colors to paint your walls and select artwork and accents that coordinate perfectly with the rug.
It's harder to find a rug that you love after you've designed an entire living room, so it's best to start with the carpet and choose everything else afterward when possible.
Over-time you will discover a favorite color or shade that you can match in other areas of the room.
Stick with similar hues. NW Rugs suggests that one thinks of a bed of roses, "All the rose colors don't match – in fact there are probably hundreds of shades of colors in ONE rose bush – different greens in the leaves, gradations of color in the petals." Use this wide range of subtle hues and shades to create a harmonious space.

If this choosing the area rug first isn't possible, be sure that your rug complements the existing furniture and décor of the room.
Rules of Design
Interior designers follow a rule called the 60-30-10 rule which means that the main design theme should be 60% of the room. Start with the larger items, a rug, the wallpaper or couch. The second pattern should be 30% of the room such as the curtains, an accent chair or an accent wall.
Finally, the 10% account for your accent color including things like throws, cushions, and artwork.
Some people do begin designing a room with a beautiful pillow pattern but as previously mentioned, it's best to start with the rug. You are then able to build the rest of the room around the large patterns and colors of the main design theme chosen.
Do Your Homework
It's important to do a bit of homework prior to choosing a rug. Start by measuring the area where the rug will be placed. It's a good rule of thumb to choose a minimum and maximum optimal size in order to provide a broader selection of rugs to choose from.
Area rugs aren't just practical, providing warmth, cushion, and comfort, they also provide artistic value. It's essentially artwork for the floor.
If your furniture and walls are all solid in color, a patterned rug can bring the design of your room to life. A rule of thumb is to place patterned furniture on solid rugs and solid furniture on patterned rugs.
It's also perfectly fine to mix patterns such as pairing organic patterns like florals with geometric patterns, such as stripes. For example, a sofa that has floral throw pillows would compliment a lattice rug.
Bigger is Better
Choosing a rug that's too small for the room is a very common decorating mistake. A rug isn't a filler – it's a focal point. A rug that is too small can make everything else look out of scale. The rug sets the ground for what rests on it. A rug should define and frame the space. It's best to purchase the largest size that fits your budget.
A designer tip to choose the right rug size is to use painter's tape to mark the area to the size of the rug you are considering. It helps in being able to visualize how the size of the rug would work with the furniture in the room.
Choosing a Shape
In most instances, the shape of the rug should reflect the shape of the room. For example, square rugs work well in square rooms and rectangular rugs suit rectangular rooms. Alternatively, a round rug should be limited to rooms with round furniture arrangements, such as a dining room with a circular table, or pronounced round fixtures such as a chandelier.
In a rectangular room, the long sides of your rug should run in the same direction as the longer walls of the room.
Wherever possible, order a swatch. This allows you to view the color of the rug with the lighting in your home, and you can also take it with you when choosing wall color or drapery.
Deep rich colors go hand-in-hand in creating an intimate space while light colors help small spaces appear larger.
Texture is often overlooked when choosing a rug. Rooms that have a mixture of textures feel rich and layered.
Pile it On
Another option is to layer rugs on top of each other, with a single large plain rug on the bottom that covers most of the floor surface, and then use smaller decorative rugs on top to anchor different seating areas. You can use a large sisal rug which is relatively inexpensive, and then layer a soft and plush area rug on top.
It's important to put a non-slip rug pad underneath. Cut the pad to a size slightly smaller than the area rug. Trimming the pad approximately one inch shorter than the rug on all sides provides maximum grip while preventing a visible change in the level where the rug transitions from pad to the floor.
Rug pads also add additional cushioning and preserve the life of the rug.
Area Rug Placement
Living Room
When selecting an area rug, try to make sure it extends under all the key pieces of furniture. If you can't have all of the furniture on the rug, it works to the front legs of major upholstered pieces directly on the rug with the back legs off.
If you have a large room, you can divide up the conversation areas with different rugs. The rugs should be tied together by color or pattern.
There are three ways to position your rug:
-No furniture legs on the rug
-Use a rug that's a bit smaller and have only the front legs of the furniture on the carpet
-All legs on the carpet. Extend the rug underneath all the furniture.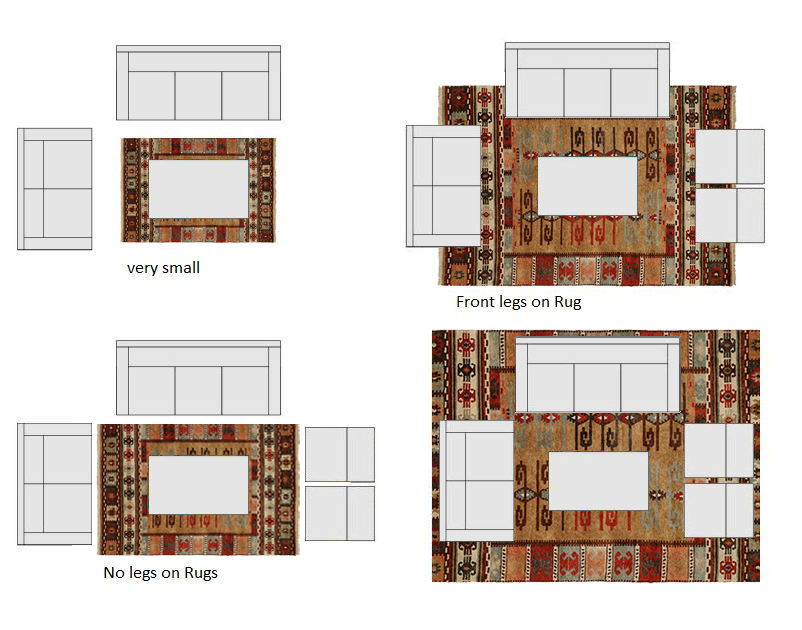 The option you choose depends on the size of the room. When all the furniture has its front legs on the rug, it creates a conversation area. If the carpet is smaller and the legs are off the carpet it makes the room look busier and therefore smaller. If the rug is partially under the furniture the floor appears to expand scale-wise, so it makes the room look bigger.
A rule of thumb is to choose a rug that is two feet shorter than the smallest wall in the room. Also be sure to place a rug pad underneath your rug to prevent it from 'creeping', even if your rug will be held in place by large furniture pieces.
Dining Rooms
There should be a minimum of 24" of rug extending from the edge of a table on all sides in order to be able to maneuver the chairs.
Bedrooms
In order to create visual balance in the bedroom, the area rug should be large enough to extend beyond the sides of the bed – at least 18" for a king or queen bed, and approximately 12" for a full or twin-size bed.
Small rugs can be placed at the foot of the bed in order to add pattern and texture. To achieve a balanced feel to the space, the rug width should extend beyond the width of the bed.
Rugs can be used as space dividers if a bedroom is also a multipurpose room, such as incorporating a vanity section or home office.
Multiple rugs can be used to break up and define the space. As with the dining room, make sure the rug is large enough so that the desk and chair can both fit on the rug. If the rug is too small, it makes it seem like it's not meant to be there and throws off the flow of the room.
Area Rugs in the Entranceway and Hallways
The area rug should cover the majority of the walking area in a hallway or entrance. It's important that both feet can be on the rug when people are walking through.
Article written by Interior Designer, Tracy Svendsen