GIRLS BEDDING FOR 2023
How to Choose Girls Bedding
Looking for girls bedding? A young girl's bedroom is more than just a place to sleep. It can be a playroom, reading nook, or simply a place to get away from it all. Because of this, it is vital to pick just the right comforter, duvet cover or quilt for this space. As a professional designer, I have spent much time decorating kids rooms and selecting girls bedding of all types. Allow me to share some of the tips I have learned about choosing the perfect set for that special girl in your life.
Just because you are choosing youth bedding and décor does not mean you are stuck with cartoon characters. Today, there are many exciting choices when it comes to designer girls bedding. Mix and match patterns and solids are a lot of fun and have a designer-friendly edge that can grow with a young lady. Before you make a purchase, check out some of the top brands on the market today. Many of these brands have a distinct "look", and you may just find the perfect style in a brand you never expected. We also have an adorable selection of boys bedding to choose from.
GIRLS BEDDING BY CATEGORY
Baby Girl
Creating a nursery is a lot of fun. However, the key to creating a nursery that is comfortable for baby and attractive too is picking the right baby nursery set. Today's crib sets and other baby bedding is more decorator-friendly than ever before. In fact, many of the patterns and pieces are designed to make it even easier to transition a nursery into a toddler room.
Toddler Girls Bedding
As you decorate a toddler's room, you have many considerations. Not only are you designing a room that will appeal to you, but your toddler may have some opinions too. Additionally, you need toddler bedding that is functional and long-lasting. When I decorate for a toddler, I choose bright colors and bold patterns. Moreover, I always pick high-quality brands that are easy to keep clean, because you never know WHAT a toddler will get into.
Girls Bedding
Modern young girls are growing up faster and are more knowledgeable about style than ever before. The cartoon characters and boring designs that were popular years ago simply will not do. Choosing the perfect quilt or duvet cover, sheets and accessories can be a fun way for a young girl to show off her style. Help her pick wisely by shopping high-quality brands and pieces by whimsical designers.
Teen Girls Bedding
As a girl becomes a teenager, she will want a room that is a bit more adult and perhaps more sophisticated. Shop around and find the perfect sheet set, quilt or duvet cover and other matching pieces to help that special teen girl in your life create her unique place.
FEATURED GIRLS BEDDING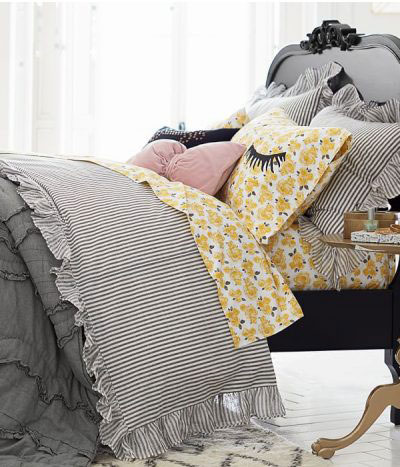 Dress up your bed with this fancy duvet cover and pillow sham. With narrow black and white stripes and ruffles along the edges, this pure cotton duvet cover is as stylish as it is soft. Designed by celebrity stylists and fashion designers Emily Current and Meritt Elliott, this bedding captures their classic and rebellious aesthetic.
Add a touch of decorative charm to their sleep space with our so-soft quilt featuring a sweet sprinkling of roses along the border. The Bramble Rose Border Quilt provides their bed with lasting comfort and style. Designed exclusively for Pottery Barn Kids by the Junk Gypsies, sisters Amie and Jolie Sikes, it captures the duo's rebellious spirit and unique design philosophy.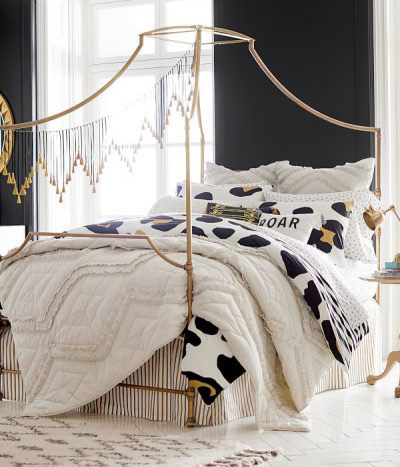 Sweet dreams do come true with this plush quilt and sham woven with pure cotton. This luxe layer is both stylish and soft. Designed exclusively by celebrity stylists and fashion designers Emily Current and Meritt Elliott. Shown with the Oversized Leopard Duvet Cover + Sham that provides a glamorous and cozy bold print that is both stylish and soft.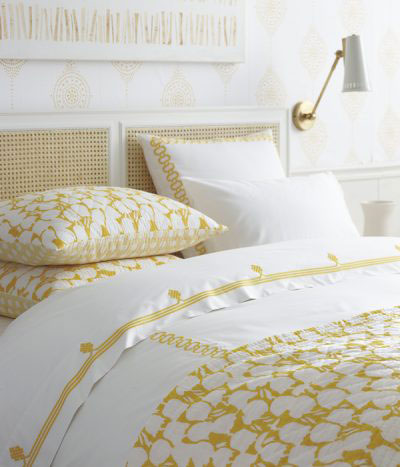 This bedding is both lively and versatile and is easy to mix and match.  The design is reversible and makes it easy to switch up the look in a kids' room with ease.  The design shows extensive attention to detail, and the quilt is lightweight enough for warm nights, but also perfect for chillier ones.  The quilt was block-printed and quilted by hand.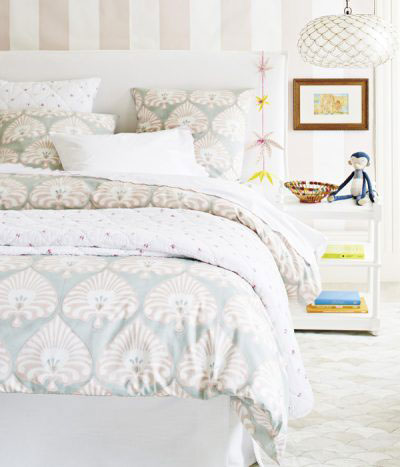 This bedding was inspired by Indian Damask, was block-printed by hand in a pared-back tonal palette.  It strikes the perfect balance between bohemian and preppy, with loose, painterly lines that have a natural variation in each piece, giving the duvet covers individual character. It's soft, elegant with gentle colors.
The embroidered scallop edge of this beautifully made duvet cover brings a sweet vintage vibe to a classic look. Available in Aqua, Shell, and Navy, it's easy to mix and match with patterned sheets for those craving an almost all-white bed. Add a fabulous sheet set in a tried-and-true basic to create a look that takes center stage.