Find a large selection of rustic lighting to choose from. Our rustic chandeliers, wall sconces, western lighting, rustic pendants, vanity lights, outdoor lighting and antler lighting have been hand-selected for quality and design. Browse through the extensive list of cabin lighting categories, as well discover rustic lighting decorating ideas for the bedroom, living room and kitchen.
HOW TO CHOOSE THE RIGHT RUSTIC LIGHTING FOR YOUR HOME
Rustic Lighting Options
Rustic lighting options for the home generally fall into three distinct categories: Overall or ambient, task and accent lighting. As you can imagine, overall lighting is the most general term. It often represents the light that any room receives when you flick switch upon entering. It can be glaring, adequate but boring, uninspired or insufficient, but it is often supplied by a single overhead fixture in the center of the room.
In well-planned rooms, however, ambient lighting can be imaginative and individualized, used to supplement natural light and to enhance the surroundings. That should be your goal, and it is entirely possible to achieve without too much effort. What is takes, however, is a bit of planning. Putting light in your life should be a matter of shining it where it is needed. Supplement overhead rustic lighting with well-placed lamps where needed.
Look to the Ceiling
In a large room, you have the ability to make a statement with lighting, as well as to shed light, in a real as well as figurative sense, on the entire room. A centrally located forged metal or antler chandelier in a rustic setting will immediately set the tone for furnishings and accessories, and might be all the rustic lighting that is needed for cozy evenings in front of a roaring fire. If you are lucky enough to have perimeter room lighting in the form of recessed cans or track-mounted fixtures, so much the better. By installing dimmer switches, you can vary the mood lighting from bright to subdued with the flick of a finger. Even ceiling fans can supply ambient lighting in a room, and serve both a decorative and utilitarian purpose.
Special-Purpose Fixtures
Ceiling-mount fixtures are also standard lighting fare in entries, kitchens and dining rooms, and they can be refined or rustic, depending on your decor. In a rustic setting, think hand-forged metal, distressed finishes, patina finishes, or various metals combined with imaginative forms; amber-toned glass or shades crafted of translucent crumpled paper, pierced metal or painted wood chip material.
Just because you tend toward the rustic in your decor, however, don't think that you have to choose a heavy, dark ceiling fixture. If you love the look of hand-blown glass, feel free to select a stunning hand-blown glass chandelier for your living room. Just make sure it is overscale in size and suspended by antique finish chain. It will provide a personalized look in addition to providing the necessary light.
Choose for Function
Be aware of the quality of light as well as the style. In a bathroom, you need sufficient light for grooming, but extremely bright light in a hallway may be unpleasant as well as unnecessary. Wall sconces can be serviceable in either location, but perfect solutions depend on individual needs. We have a variety of options to make the task of choosing new or replacement fixtures easy for every room in your home. Whether you have a log cabin or a stone castle, we can supply your desires for rustic lighting fixtures to blend with the rest of your decor, put ample light in every corner of your space, and be easy on your budget as well.
Add a Bit of Whimsy!
Never neglect the fun part when choosing accent lighting for your home. Express your interests and your personality by choosing a floor lamp inspired by bear cubs climbing a tree, or select a table lamp crafted from an antique fire extinguisher or rustic tree stump. Add a Mexican metal and glass star to your decor, celebrate the southwest with pottery sconces, or delight a child with a canoe-paddle lamp.
Remember, it's your life and the spotlight is on you!
Rustic Bedroom Lighting Ideas
In order to create a cozy and welcoming mood in your bedroom while providing adequate light, it's important to plan ahead. Lighting is often overlooked in the bedroom and forgotten in the excitement of choosing bedroom furniture and bedding. Yet, proper lighting is an important element in every room.
A combination of light sources adds warmth and depth and as with any room in your home, it's best done in layers. Ambient light will provide the same function as natural sunlight while accent lighting will highlight areas or objects in the room that you want to highlight or showcase. Task lighting is necessary for reading or writing. Various combinations of bedroom lighting can include floor lamps, ceiling fixtures and bedside lamps.
It's always a good idea to incorporate lights of varying wattage's. Dimmer switches that can be adjusted can provide brightness for tasks such as putting clothing away, or create a warm soft glow for resting or conversation.
A rustic chandelier will add dimension and to a bedroom and is the perfect way to add a woodland touch to the space. From metal chandeliers that feature bear and pine trees, to Timberland and Antler Chandeliers that compliment a cabin or rustic bedroom.
Rustic lamps placed on either side of the bed illuminate the room while creating a relaxing atmosphere. Our curated collection ranges from bear lamps to birch table lamps, faux antler, antique wood and metal.
Rustic Lighting Ideas for the Living Room
When adding lighting to the living room, start by defining what the function is of different areas in the room. Do you want the space to be bright and focused or would you prefer background ambient light? As with the bedroom, incorporate different layers of lighting such as ceiling lamps, floor lights and table lamps. A rustic chandelier or pendant lights can be hung from the ceiling and wall sconces can be situated at the sides of the room.
Recessed ceiling lights and table lamps help provide task lighting while spot lights can be possitioned to highlight artwork and decor. Ambient light fixtures can be attached to a dimmer switch to make them dimmable and set the mood – even LED light fixtures are now dimmable.
Rustic Kitchen Lighting Ideas
The first element to address when creating a lighting plan for the kitchen is to assess the activities that will occur in the space and in what defined areas. What area will be for cooking and entertaining?
Task lighting over the cook-top is an example of the importance of highlighting a specific work area. Under the cabinet lighting is a great option for providing task lighting for the counter top area.
Center islands provide the opportunity to incorporate decorating lighting from pendants to recessed down-lights.
It's important to remember that the choice of lighting sets the atmosphere in any room. Use incandescent lighting if you want a warm glow in the kitchen. Halogen lighting produces a more crisp light that is perfect for tasks.
Rustic Entryway Lighting
The entryway to your home makes the first impression of your home to your guests.  Whether you want to make a bold statement or subdued, the lighting you choose will set the tone for the rest of your home.  From a rustic chandelier to a nature-inspired table lamp placed on an entryway console there's boundless opportunities to showcase your own personal style.
A chandelier placed in the entrance way makes a bold statement. Choose a fixture that's proportionate to the space. Pendants also work well and add radiance.  Styles range from single pendants to clusters of smaller pendants. Another option is ceiling fixtures that have rustic elements, such as wrought iron or wildlife motifs. A well placed floor lamp adds a bit of extra visual interest to the entrance.
How to Choose a Rustic Light Fixture
Rustic Chandeliers
Chandeliers do not only provide illumination to a space, they also introduce elegance and style. The right chandelier can make a dramatic difference.  The rustic chandelier should complement, not distract from the rest of the room. A chandelier in a rustic dining room, living room or bedroom can be made of twigs, faux antlers, rustic metal and wood.
You can give your home a cozy lodge look with fixtures that include bear, birch bark and iron.  From wagon chandeliers to antler chandeliers, here you'll find a wide variety to choose from.
Rustic Pendant Lighting
Pendant lighting can make a dramatic difference in your home. As with all lighting fixtures, it's important to determine what the purpose of the light will be.  Do you require direct lighting above your kitchen island, or extra lighting in your foyer? Once the task is clear, it's time to determine the size and quantity that will be required.
Pendants come in a delightful number of options, from bell-shaped, to globes, lanterns and drums. Be sure to measure the space to ensure there is enough room for the items you choose. It's also important to ensure that they co-ordinate with the surrounding décor.
Browse through our collection of heritage, case, and antler pendants as well as gorgeous rustic glass pendants perfect for a log home or cabin.
Rustic Lamps
Lamps are a great design tool and can add texture, color and balance to a room. Lamps aren't the main act but work in adding additional warmth and light to the space. The choices are endless, but it is important to calculate the correct size.  Many people make the mistake of purchasing a lamp before measuring where it will be situated. If you are planning on purchasing a table lamp, it's important to measure the table height and circumference.  You lamp should be no more than 1.5 times the height of the furnishing it sits on.  The lampshade should also not overlap the table.
For a bedside table it's important to get the arc of light right for reading. Decorating export Phoebe Howard recommends to "Choose shades that will keep your lamp height around 26 to 30 inches. You can also put a three-way switch or even two sockets on your lamp for twice as much light." End tables are the perfect location for a pair of larger lamps.
Remember, it's your life and the spotlight is on you!
If you would like to read more tips on how to decorate rustic-style, please visit the Canadian Log Homes Blog.
SHARE THIS PAGE, CHOOSE YOUR PLATFORM
Summary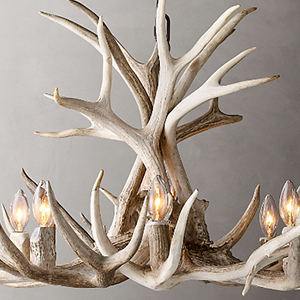 Article Name
How to Choose Rustic Lighting for Your Home
Description
Learn how to choose the right rustic lighting for your home. Rustic lighting ideas for the living room, kitchen, dining room, entryway and bedroom. Here you'll find tips for rustic chandeliers, pendant lighting, lamps and antler lighting. Where to shop.
Author
Tracy Svendsen, Interior Design
Publisher Name
Canadian Log Homes & Rustic Decor
Publisher Logo