White Bedding
Looking for white bedding? Browse through a beautiful collection of white quilts, duvet covers, and comforter sets as well as white bedroom decorating ideas.
There's nothing more decadent than cuddling up in the evening in a luxurious white bed with soft and sumptuous layers. White layers on the bed provide a clean and crisp look that turns the bedroom into an elegant oasis that exudes tranquility and charm.
A chic bed layered in white is always in season. Design your own light, airy and welcoming bedroom with our curated selection of bedding. Here you'll find everything from modern to contemporary bedding as well as textured duvet covers and quilts.
White Bedroom Ideas
White is the go-to color with interior designers when designing luxury hotel bedrooms all over the world. Whether it's monochromatic pure white ensembles, to bedding with a touch of an accent color, the look is tranquil and provides quiet simplicity and elegance.
When there is an absence of color, pattern and texture becomes a major focal point and adds a subtle aesthetic to the bedroom without modifying a neutral color scheme.
From luxury white ensembles that outfit your bedroom in Italian refinement, to super soft Egyptian cotton and hotel-inspired collections our selection of bedding is sure to instantly add effortless luxury to any room's decor. Find bed linens, quilts, comforters and duvet covers from all the top brands and online stores including DKNY, Ralph Lauren, Charisma, SFERRA, Pottery Barn, Serena & Lily, Crate & Barrel, Williams-Sonoma and Anthropologie.
How to Layer an All-White Bed
White is anything but boring when you introduce tantalizing textures and cloud-like softness. For the minimalist, pure white layers offer beautiful simplicity and endless versatility. It's all about creating depth and dimension with the addition of interesting materials, unique details and textures.
Look for dreamy white fabrics with artful details and collections that offer a mix of looks that can be layered effortlessly. For polish and personality, think about adding embroidered linens that add a special touch.  Romantic details like frayed edges and fringe loosen the look. The beauty of white on white is that everything goes.
Where to Start
Start with a white bed skirt with split corners and boxed pleats to provide for a uniform fit and clean design.
Choose the white bedding ensemble that suits your design aesthetic, whether it's Greek sateen, Italian linen, or includes details such as embroidery, fringe or ruffles.
Although white is classic, there are many subtle patterns and textures that add interest and dimension. At the end of the day, you want a bed that you love to dive into.
Be sure to add decorative throw pillows. In keeping with all-white bedroom design, choose pillows with interesting pattern, texture, and details. Mix and match several pillows to add volume and dimension.
A draped quilt or throw at the foot of the bed provides additional comfort and warmth. Coverlets also serve as a lightweight top layer for your bed.
How the Pros Do It
Serena & Lily deconstruct one of their favorite looks and the elements that make an all-white bed work:
#1: Embroidery: For polish and personality, embroidery adds that special touch.
#2: Fringe: Loosen up the look with romantic details like frayed edges and fringe.
#3: Quilts: Another way to add a layer of light texture to the bed is by adding a luxurious quilt.
#4 Linen: The relaxed elegance and natural beauty of linen are iconic in pure white.
#5: Pillows: An accent pillow or bedding detail in a quiet neutral adds subtle contrast to an all-white bed.
Pottery Barn's White Bedding Ideas
"Whether relaxed, tailored or tonal, all of our favorite beds of this season are grounded in white. These easy-to-follow looks let you find the one you love and make it your own." ~ Pottery Barn
Look #1: The Perfectly Unmade Bed
Known for its breath-ability, durability, and coziness, Belgian flax linen lets you create a relaxed, casual vibe that looks the dreamiest in a white palette. The secret to this style is keeping it as effortless as possible, so embrace a few wrinkles and pile on cozy layers and pillows with abandon.
Style Tip
To prevent an all-linen bed from looking flat, incorporate subtle design details, like diamond-stitched quilts and shams, to add texture.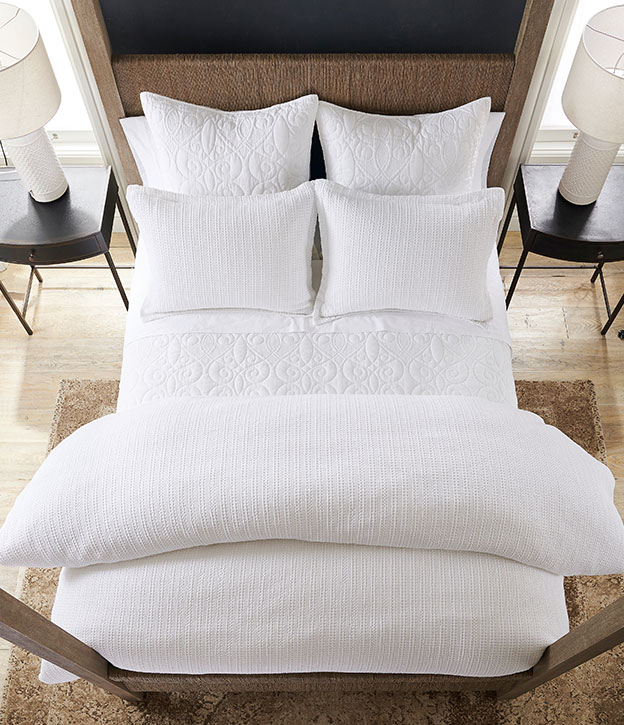 Look #2: The Tailored Bed
There's nothing like turning down crisp, cool layers of cotton and getting into a meticulously made bed. Keep it classic, simple and serene with this symmetrical styling approach to all white.
Style Tip
To create volume, fold your duvet in thirds and place neatly at the end of the bed.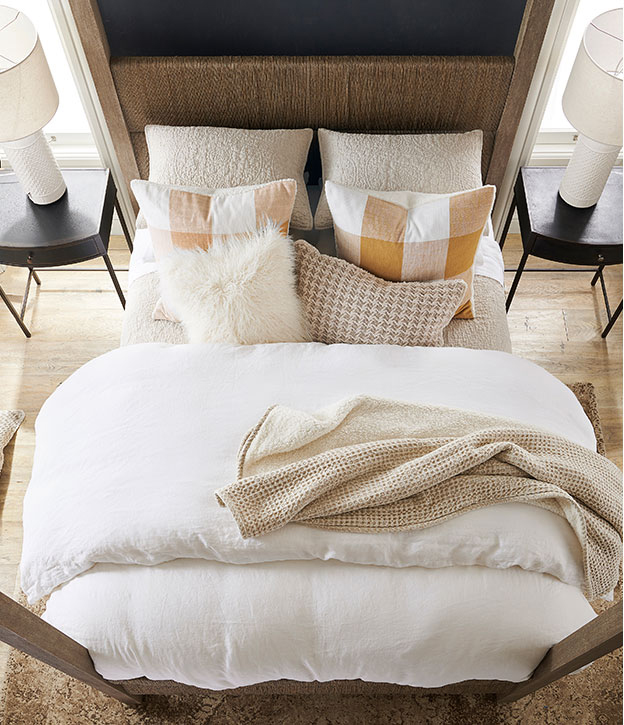 Look #3: The White & Neutral Bed
If you love the look of all white but want to incorporate a bit more personality, try blending in beige. Mix materials for texture, have fun with tonality and play with pattern.
Style Tip
Keep your quilt and standard shams to the same color and material for a cohesive look, then layer on accents in shades that range a bit lighter and darker.
White Bedrooms with a Pop of Color
In designing a white bedroom, you can choose to create a monochromatic look, or interject bright pops of color decorative elements such as throw pillows, artwork, blankets and area rugs. White is a versatile hue that coordinates perfectly with any accent color.
Sources:
Serena & Lily. 3 Ways to Create an All-White Bed
Pottery Barn. A White Bed 3 Ways