RUSTIC FURNITURE FOR 2022
Find a curated collection of rustic furniture, from coffee and accent tables to rustic bedroom furniture, sofas and sectionals, log furniture and rustic dining room furniture.
As you shop for furniture for your home, you will probably be immediately drawn to the time-tested and familiar look of logs and hand-adzed wood crafted into rugged, sometimes oversized examples of serviceable pieces that are designed to last a lifetime. While this is a popular and traditional face of rustic, it is just one option for today's cabin, log home or rustic setting. Design for a modern incarnation of rustic calls on many influences — Western, Southwestern, Mexican, Midwest Farmhouse and even ethnic European. So, feel free to choose a roomful of pieces that draw on differing eras and widespread traditions, if you wish. Browse through the extensive list of cabin decor categories below.
CABIN & RUSTIC FURNITURE BY CATEGORY
Find cabin furniture for your log home, cabin or rustic retreat. Our curated selection of rustic furniture includes lodge-style bedroom furniture from log and reclaimed wood beds to hand-hewn dressers and nightstands.
Looking for rustic tables for your living room? Find a curated selection of beautifully built rustic coffee and accent tables. Our collection includes farmhouse tables, driftwood, reclaimed wood, tequila barrel tables and rugged leather ottomans.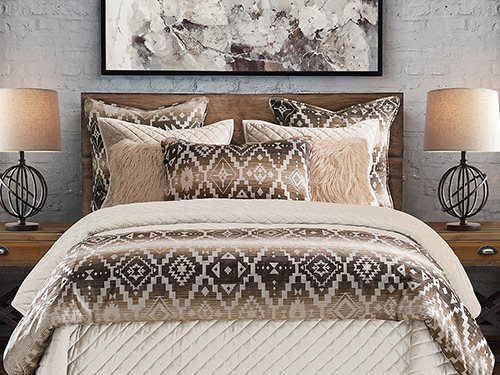 Find rustic bedroom furniture; from high-quality beds, nightstands and dressers to farmhouse bedroom furniture. The bedroom furniture collection includes rustic modern furniture, log bedroom furniture, reclaimed wood, farmhouse, as well as lodge style beds and dressers.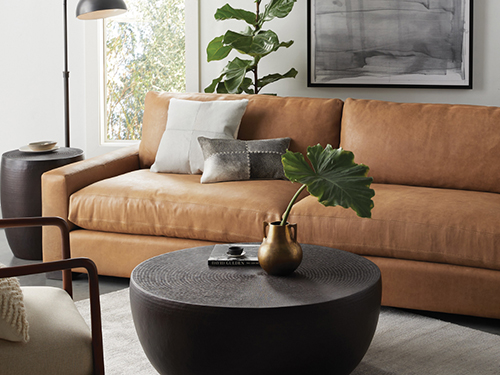 Find everything you need for your or rustic living room, including lodge sofas, rustic coffee tables, rocking chairs, footstools, loveseats, consoles and leather wingback chairs.
From French wine bottle riddling racks to farmhouse slipcover dining chairs, reclaimed wood buffets, rustic dining tables, leather chairs, rustic kitchen islands and hutches, browse through our curated collection of pieces sure to add rustic elegance and warmth.
Looking for log furniture? Find log bedroom furniture, beds and living room furniture.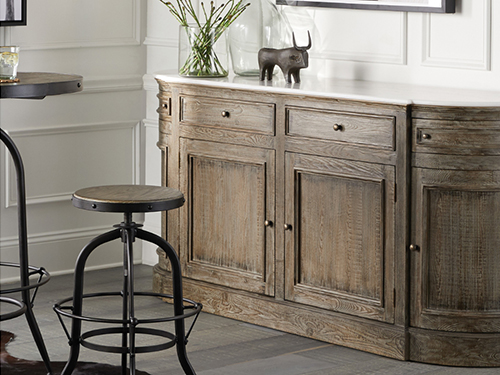 Find a gorgeous collection of rustic console tables, footstools, ottomans, bar stools, bars and cabinets.
Find rustic entryway furniture for your log cabin, farmhouse-style home or rustic retreat. Whether you are looking for an accent piece for an entrance such as a rustic footstool, vintage cabinet or wood console, browse through our curated collection. Our collection includes several rustic styles, from traditional lodge to farmhouse and modern-rustic pieces.
Rustic outdoor sectionals, tables and chairs.
Today's farmhouse style is fresh, bright, and unexpectedly modern.  With vintage-feeling touches, industrial inspiration, and rustic accents, the Urban Farmhouse is as welcoming as it is comfortable.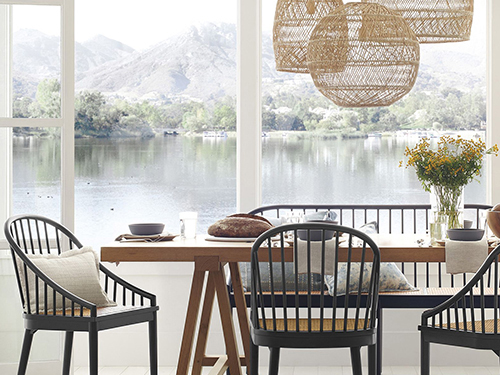 Comfort, relaxed, and a casual attitude. Here you'll find coastal furniture with a breezy California style.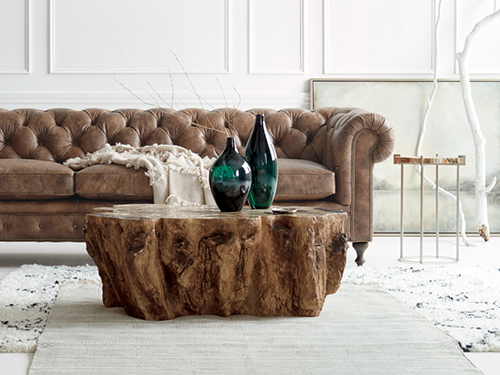 Nods to nature, from reclaimed materials to a mineral palette, make this iconic look feel fresh.  Clean lines, rustic finishes and earthy textures give it timeless appeal.
HOW TO CHOOSE RUSTIC & CABIN FURNITURE
A Virtual Department Store of Options
We will bring some of the best examples of rustic furniture design right to your living room on the pages of our virtual design catalog, helping you to refine and crystallize your preferences. We make it easy for you to select and order the perfect pieces to complement your home decor and your lifestyle.
As an experienced interior designer, I am confident that you will find much to love in the pieces selected. Consider how a forged iron base coffee table with a hammered copper top might enhance the patina of your rustic wood-framed sofa and comfortable leather club chairs. Or picture a playful coffee table fabricated from an antique child's sled in a comfortable den, a room meant to celebrate family togetherness.
A Kaleidoscope of Choices in Rustic Furniture
At Canadian Log Homes, we are the first to admit that rustic furniture can run the gamut of possibilities from mountain cozy to back woods "roughing it" styles, and we are equally insistent on comfort and style in our own home surroundings.
We cull the best of the latest collections from our affiliated retailers, and we bring you a variety of options. Hone your own preferences from the comfort of your own cabin, cottage or chalet. Our rustic furniture collections are sourced top rustic brands, and we curate seasonal collections with care, so that you have the luxury of shopping throughout the year.
You have our commitment that what we bring you is high quality, built and fabricated to give you years of service and oodles of pleasure, and offered at the best possible price. We spare no effort to bring you the furnishings and accessories, lighting, bedding and the personal effects that will infuse in individual design aesthetic into your home. Your choices are virtually unlimited.
Browse the Collections for Ideas
We invite you to browse all our collections before making your final decisions. Peruse the various rustic furniture styles; turn to our lighting pages and play them off against bed and bath options. Visit our blog and take the time to weigh the relative merits of refined Western designs against the colorful sensibility and warmth of Hudson Bay designs or the frontier appeal of horse motifs, forged metal table bases, and twisted willow accents.
Home decor is always made more interesting with a studied mix, and we firmly believe that if you love a piece of furniture you can make it work in any room setting. We practice what we preach: You will find stunning examples of painted European accent commodes and antique armoires included among our collection of lodgepole pine bed frames and wagon wheel lamp tables. Be as daring as we are! In every way, we hope you love shopping our virtual market just as much as we love bringing you the unique and wonderful rustic furniture that we select for you. We welcome you to our rustic world.
Rustic Coffee Tables
Here you will find a beautiful selection of coffee and accent tables, from antler console tables to natural teak, reclaimed wood, and leather ottomans. The wood stump table is hewn from acacia trunks and selected for their intriguing rustic shape and live edge. It fits perfectly in a traditional or modern rustic home.
Rustic Bedroom Furniture
The rustic bedroom furniture category includes beds, headboards, nightstands, and dressers that are sure to compliment your rustic bedroom. From reclaimed wood beds to whitewashed wood dressers and log furniture, our selection is curated to encompass a wide variety of rustic design styles.
Rustic Living Room Furniture
Our rustic living room furniture category includes lodge sofas, leather sectionals, reclaimed wood coffee tables, cowhide chairs, rustic bar cabinets, footstools, bookcases, nesting tables, ottomans, and stunning rustic coffee tables.
Rustic Kitchen and Dining Room Collection
Find rustic kitchen furniture to bring rustic charm to your kitchen and dining area. You don't have to live in the country to enjoy the warm ambiance of a modern rustic or farmhouse kitchen. A country kitchen can easily be created by adding a few natural wood elements, old stones, and rough-hewn wood beams as well as reclaimed and distressed furniture. Browse through a collection of rustic wood consoles, dining room tables, antler wood bar stools, barn wood dining room chairs, rustic buffet & hutches as well as rustic kitchen islands.
Log Furniture
The log furniture collection includes gorgeous log beds, nightstands, consoles, tables, bar stools, and cedar linen cabinets.
Rustic Accent Cabin Furniture
From old and weathered champagne riddling racks ideal for displaying as wall art or to display empty wine bottles too beautiful to throw away, to stunning rustic driftwood side tables bleached by the sun, find everything you need for your rustic retreat.
Featuring authentic whiskey barrel construction for the table base, the unique Antler & Barrel Pub Table is crafted from reclaimed antique barn wood with naturally shed antlers and crown accents for a truly stunning addition to any rustic space.
Here you'll find a curated selection of console tables, footstools as well as bar stools and cabinets.
Rustic Entryway Cabin Furniture
A beautiful and organized entryway helps to make a home feel more welcoming. It's easy to add style and function by adding a gorgeous rustic console, hall tree, bench or modular entryway furniture.
Rustic Outdoor Furniture
The Rustic Outdoor Furniture section has all-weather wicker furniture, outdoor tables, accent tables, outdoor sectionals and teak chaise beds.
If you would like to read more tips on how to decorate rustic-style, please visit the Canadian Log Homes Blog.
SHARE THIS PAGE, CHOOSE YOUR PLATFORM