Rustic Bedding for 2023
Southwestern, Western, Rustic, Cabin & Lodge Bedding
Rustic Bedding: Looking to transform your bedroom into a cozy retreat that exudes rustic charm and warmth? Here, you'll find a curated collection of rustic bedding that will suit every home, whether a farmhouse chic or a mountain lodge-inspired aesthetic. From nature-inspired patterns and earthy tones to plush fabrics and textured details, rustic bedding adds a touch of rustic elegance to any bedroom. Many options exist for a log cabin-inspired look or a more modern take on rustic. Incorporating natural materials like linen, cotton, and wool, rustic bedding creates a warm and inviting atmosphere in your bedroom. Add a touch of luxury with faux fur throws, or opt for a more minimalistic approach with simple plaids and checks.
Whether you're looking to revamp your primary suite, a guest bedroom, or even a cozy cabin in the woods, these rustic bedding ideas will help you create a haven of relaxation and comfort. All rustic bedding has been hand-selected by our interior designer from trusted brands that our log home clients have been ordering from for over 15 years. Shop from cabin quilts, bear bedding sets, western bedding, cowboy bedding, southwestern comforters, and gorgeous lodge bedding sets. So, get ready to snuggle up in style with these fabulous options!
An article written by Interior Designer Tracy Svendsen has been provided at the bottom of the page on how to decorate a rustic bedroom.
Shop Bedding by Category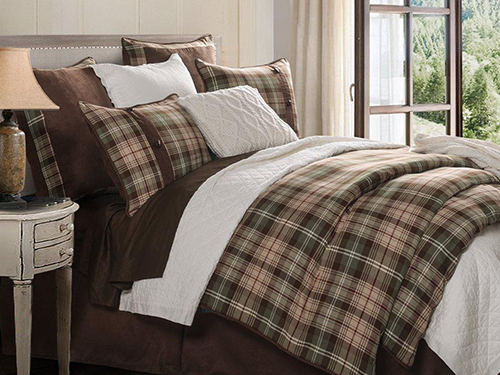 Find over 100 rustic comforters, duvet covers and quilts to choose from. This collection includes everything from rustic cabin bedding to warm and cozy quilts. We've been sure to include traditional lodge-style bear and moose bedding and log cabin duvet covers as well as modern rustic bedding sets.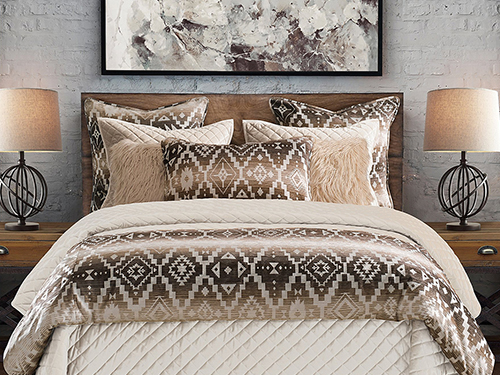 Browse through high-quality and refined lodge bedding sets including luxury southwestern bedding and lake cabin bedding from all the top brands such as HiEnd Accents, Carstens, Eastern Accents, Ralph Lauren and Croscill.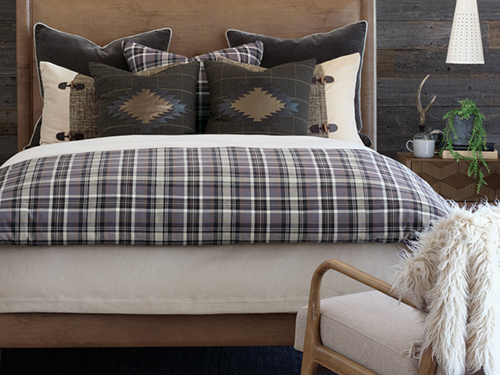 Here you'll find kilim inspired southwestern prints, western comforter sets as well as cowgirl and cowboy bedding for all ages. Bedding collections include the gorgeous Del Rio comforter set, Pendleton Blankets, Durango Canyon, Flying Horse and the Painted Desert Aztec series.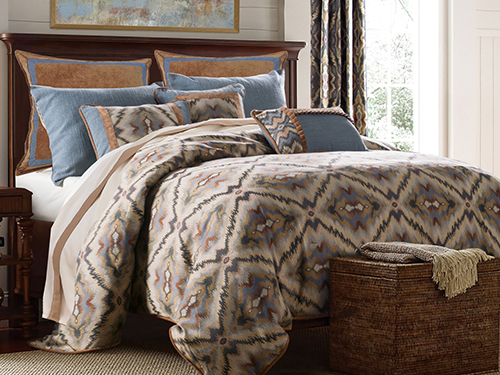 The southwestern style recalls the beauty of the desert landscapes and the Old West with rugged appeal. It's a style that incorporates rich hues such as terra-cotta, brick red, turquoise and subtle golds that are straight from the desert sky and landscape. Explore our collection of southwest bedding in bold colors, patterns and beautiful textures.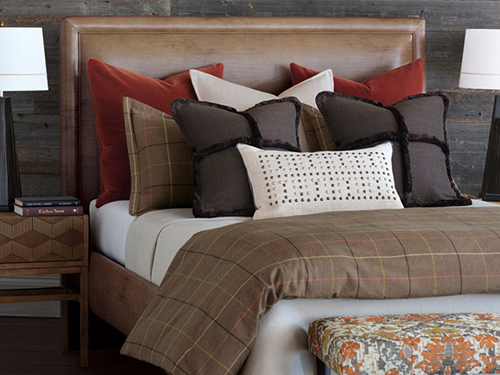 Find luxury western style bedding, horse bedding and high end western bedding. The Flying Horse Western Bedding Collection by Carstens features bold color, a classic western horse motif, and strong geometric design. The Free Rein Collection has the stunning colors of the desert that is the perfect accent to the majestic running horses.