Rustic Bedding for 2022
Southwestern, Western, Rustic, Cabin & Lodge Bedding
Find rustic bedding that is sure to instantly give your bedroom a lodge style look. From luxury cabin bedding sets to cozy rustic quilts and comforters there is a wide variety to choose from. All rustic bedding has been hand-selected by our interior designer from trusted brands that our log home clients have been ordering from for over 15 years. Shop from cabin quilts, bear bedding sets, western bedding, cowboy bedding, southwestern comforters and gorgeous lodge bedding sets.
An article has been provided at the bottom of the page on how to decorate a rustic bedroom, written by Interior Designer Tracy Svendsen.
Shop Bedding by Category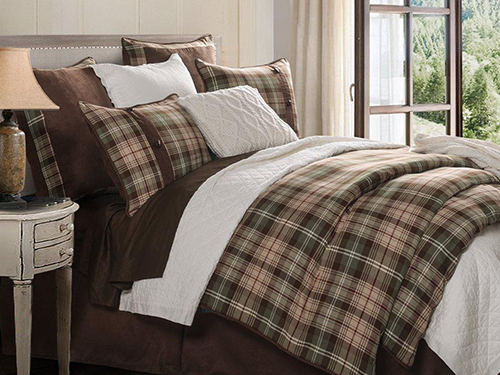 Find over 100 rustic comforters, duvet covers and quilts to choose from. This collection includes everything from rustic cabin bedding to warm and cozy quilts. We've been sure to include traditional lodge-style bear and moose bedding and log cabin duvet covers as well as modern rustic bedding sets.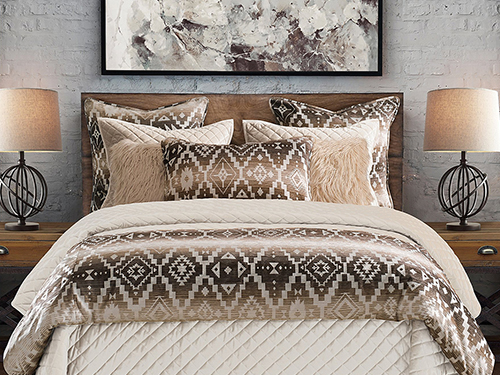 Browse through high-quality and refined lodge bedding sets including luxury southwestern bedding and lake cabin bedding from all the top brands such as HiEnd Accents, Carstens, Eastern Accents, Ralph Lauren and Croscill.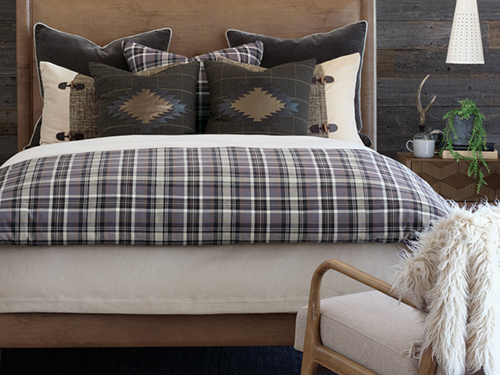 Here you'll find kilim inspired southwestern prints, western comforter sets as well as cowgirl and cowboy bedding for all ages. Bedding collections include the gorgeous Del Rio comforter set, Pendleton Blankets, Durango Canyon, Flying Horse and the Painted Desert Aztec series.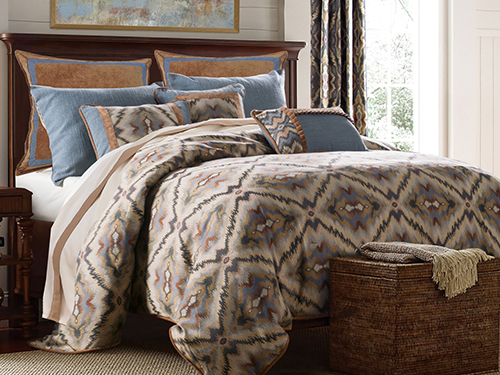 The southwestern style recalls the beauty of the desert landscapes and the Old West with rugged appeal. It's a style that incorporates rich hues such as terra-cotta, brick red, turquoise and subtle golds that are straight from the desert sky and landscape. Explore our collection of southwest bedding in bold colors, patterns and beautiful textures.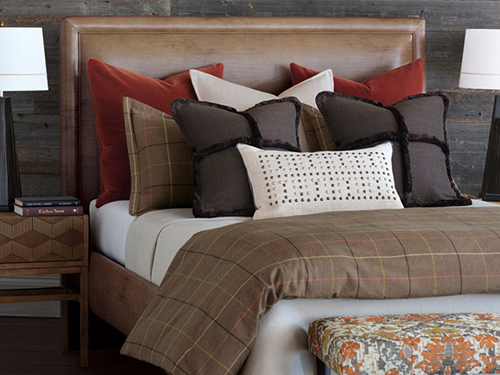 Find luxury western style bedding, horse bedding and high end western bedding. The Flying Horse Western Bedding Collection by Carstens features bold color, a classic western horse motif, and strong geometric design. The Free Rein Collection has the stunning colors of the desert that is the perfect accent to the majestic running horses.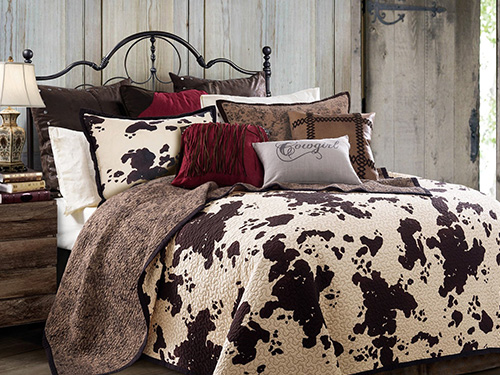 Our cowgirl bedding collection includes horse bedding sets for all ages. From adult western comforters to children's pony bedding sets. We also have a colorful collection of teen girl horse bedding including quilts, duvet covers and comforters.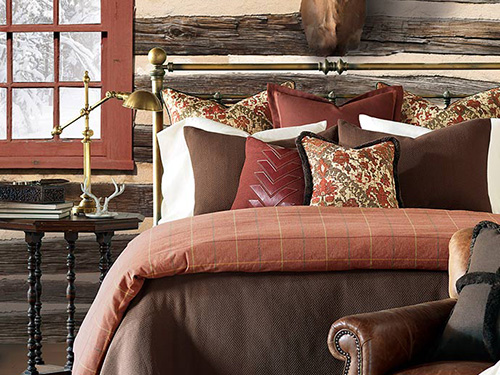 The lodge bedding collection includes high-end and luxury log cabin bedding, including comforter sets, duvet covers and cabin quilts. One of our favorite's is the Eclipse Collection – a gorgeous bedding set that has sumptuous shades of velvety greens and browns. The perfect finishing touch to a log cabin or rustic bedroom.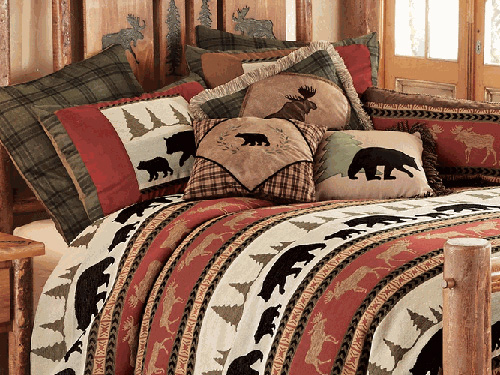 Whether you have a cabin, lodge or rustic retreat, here you'll find the perfect rustic quilt. From rustic patchwork quilts to black bear bedding and lake cabin quilts, browse through a hand-selected collection of rustic cabin quilts including Ozark, Arizona, Austin, Lodge and the Wildlife Woodland Quilt Collection.
Here you'll find farmhouse bedding including rustic linen bedding, buffalo check and stripe duvet covers. Our farmhouse collection has comforters, duvet covers and quilts that are sure to warm up your farmhouse bedroom.
Featured Rustic Bedding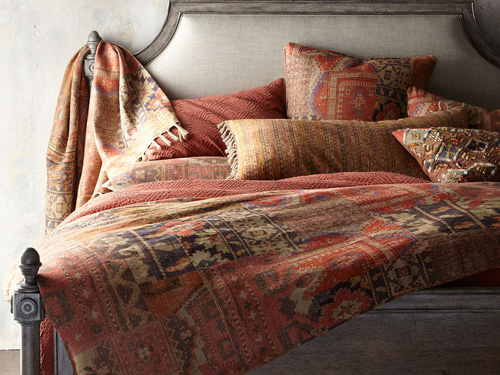 The Anatolia Kilim inspired bedding collection is made of linen and is printed with a kilim-inspired pattern in gorgeous warm shades of terra cotta, java, brick and blue. It coordinates perfectly with both neutrals and patterns. It's available in twin, queen and king sizes and fits in perfectly with rustic, southwestern and western bedrooms.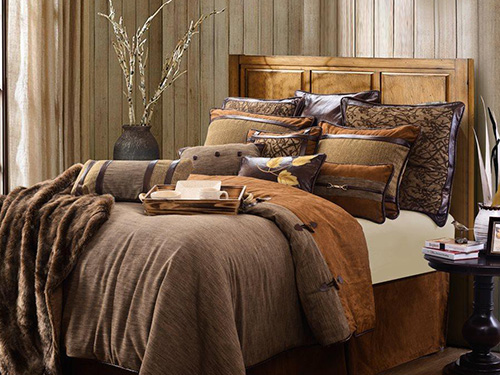 Create a rustic atmosphere in your bedroom with the Highland Lodge Bedding Collection. This bedding collection features calming earth tones and natural colors to remind you of the beautiful outdoors.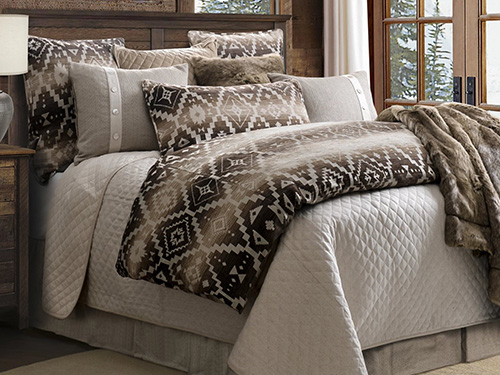 The Chalet Aztec Southwestern Comforter Set gracefully inspired by beautiful earthen tones will give your bedroom a luxuriously relaxed feel. Coordinating 20-Piece Bathroom Set also available.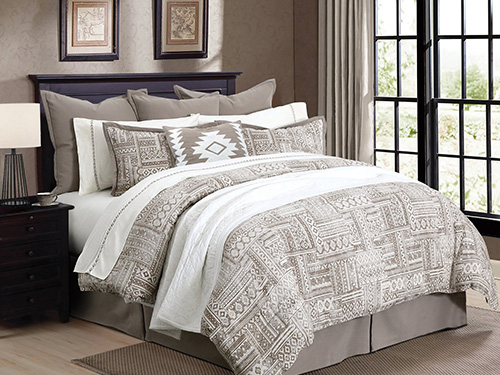 Update your Southwestern, Bohemian bedroom with the Trent comforter set. The patchwork style jacquard adds a subtle, Aztec texture to your bedding that allows you to add your own elements of style and color. The shades of taupe and cream set a neutral palette to play with, perfect for any home.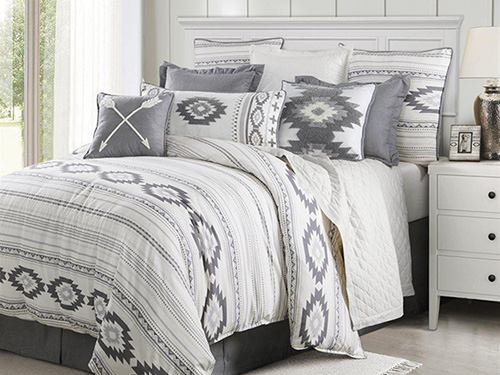 The Free Spirit Comforter Set will add a relaxed Bohemian feel to your bedroom. In tranquil hues of gray and soft white you will never want to get out of bed. Layer with off-whites or grays for an updated modern look or add in an accent color for a vibrant pop of fun.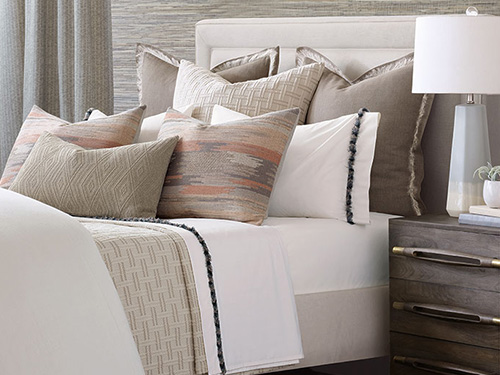 Eastern Accents Rory Bedding. The cream hues find the ideal backdrop for any additional pieces that can easily be coordinated to his contemporary ensemble.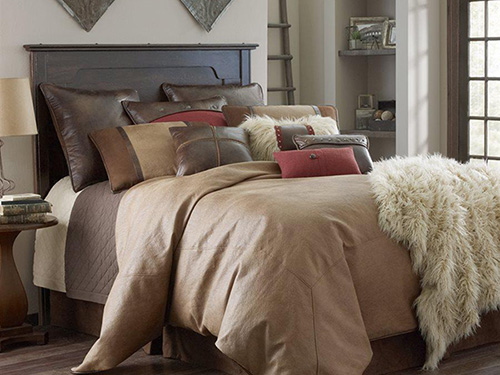 The soft earth tones of this comforter set are warm and inviting, and will give your room an ageless look. Light and dark chocolate faux suede, combined with faux leather piping allow this delicious set to coordinate with so many accessories and looks.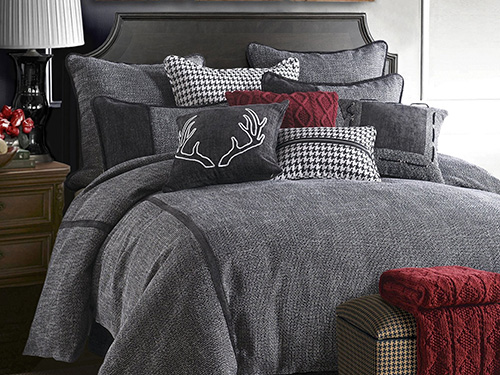 The Hamilton 4 piece set is a sleek look for this black and white woven collection: a classic look of luxury with simple, clean lines, and rope and zipper detailing. Add a splash of color for fun with a red pillow or throw. Comforter has soft chenille accents, and shams have chenille piping. Can be enhanced with many pillows and euro shams.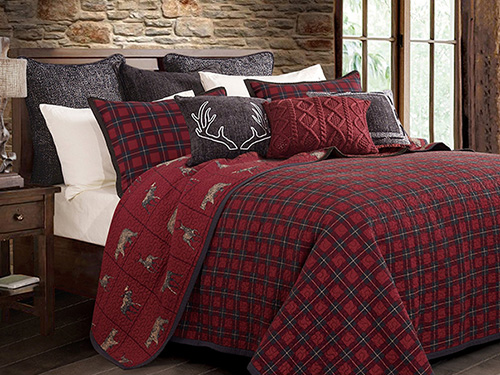 Your home will be the talk of the woodlands, where the deer and the bear and the moose will want to play! The Woodland Plaid 3 piece quilt set is reversible and whimsical, featuring woodland animals in square blocks on the front, and red and black plaid on the back. Made from 100% cotton, it is machine washable. Top stitched with black thread and hemmed with black trim. Imported.
Rustic Bedroom Decorating Ideas
Do you ever want to spend the day in bed in your "jammies" reading a great book? If you give in to that urge occasionally, why not also give in to the urge to outfit your bed in some wonderfully rustic and comfortable rustic bedding.
No matter what the season, the outside temperature, or the weather conditions, with the right cabin bedding you can be easily transported to a world of your choosing — a luxury lodge in the wild, a cozy cabin in the North Woods, a hunting or fishing retreat, or the Wild West.
Create a Place of Comfort & Delight
Just as you select furnishings and wall colors to express your personality and conform to your own vision of "perfect," you should also dress your bed in a way that appeals, inspires or simply makes you smile. In this case, Yes, it is all about you!
That's why we work so diligently to bring you a wide selection of the best rustic bedding components that we can find in the marketplace. From handmade quilts to themed comforters, from homespun to luxe fabrics, from whimsical to captivating, we bring you the best new design ideas and the most stylish options from a variety of retailers known for their quality and service.
Selections include bedding sourced from top rustic bedding brands. Pile on fluffy comforters in a solid color and accent the look with a selection of moose pillows, or a plaid throw just for fun. Create a fantasy room for a teen with coordinated woodsy bedding and a variety of wildlife pillows.
Indulge your child's love of cowboys and cowgirls not only with appropriate bedding, but with a graphic cowhide rug, a warm micro-soft throw, and a handcrafted iron hat rack. Browse through the extensive list of rustic, western, lodge and cabin bedding categories.
How to Choose the Right Rustic Bedding
Don't be misled into thinking that rustic has to conform to any specific formula. Rustic done right is rustic done your way, in a manner which will bring you a lasting appreciation for the lifestyle. Pick and choose from among the components that appeal to your sense of fun, your personal vision and your need for individuality.
It's not all about weathered wood, dark hues, hammered iron and shed antlers, although those could constitute the essence of a particular brand of rustic. It can also encompass soothing, pale neutral schemes, some peeling paint finishes and the colors of sun glinting off a field of wheat, or the watery grays and blues of a deserted lakeside cabin.
If you have any doubts about the direction your heart is leading you, think of your last trip to the country or the woods, the seashore or the mountains, and analyze the parts of the experience that thrilled you and the sights that remain in your memory. Then act on those memories. You will most likely find your brand of rustic!
Dare to Be Different
That is always good advice — no matter what look you want to achieve, know that it is yours alone. As you browse the pages of our virtual rustic bedding catalog, remember that we have spent many hours laying the groundwork for your choices. We are always on the lookout for top quality, new and interesting designs and impeccable service so that you can outfit your space in style and comfort. We are happy to have you shop with us. And we're happy to share our love of rustic bedding designs with you.
The many faces of rustic are at your fingertips. Won't you take a journey with us into this exciting world of bedding?
How to Decorate a Rustic Bedroom
There are many directions you can take when creating a rustic bedroom. I believe it's easiest to start with choosing the rustic bedding set first and use this as the inspiration for your color palette.
Many of lodge bedding collections have bears, pinecones with southwestern geometric prints in warm earth-tones. This style goes great with southwestern or solid area rugs that reflect the color of the bedding.
If you don't want the full-on rustic style in your bedroom, consider going with solid bedding and add rustic pillows and a cozy cabin throw at the foot of the bed.
Walls can be painted in subtle earth-tone shades, or clad with reclaimed wood or stone. Wood furniture always works well in a rustic bedroom, from log beds to reclaimed rustic headboards. Another option is a leather headboard – which provides a very masculine look to the room.
Décor to consider adding are wicker baskets, barn doors, old shutters, wrought iron, faux fur throws and light fixtures made from driftwood or twigs.
Modern Rustic Bedding
Many of the rustic quilts and comforters available have outdoor icons such as bear, moose, pinecones and deer as well as southwest geometrics in bright and bold colors. For those that prefer a more modern approach to rustic design, it works well to choose a quilt, duvet cover or comforter in a solid color, and add throw pillows and a blanket at the end of the bed that has lodge-style prints.
Modern rustic bedrooms typically incorporate a neutral palette that relies on the use of warm tones, natural wood, and rustic furniture. Create the perfect balance between modern and rustic elements to give the room a unique personality. Incorporate natural textures, rustic bedside tables, repurposed and restored items with polished and modern finishes. Metallics such as weathered brass and iron create interest. Think of adding rustic shelving, wooden crates, copper lamps, and galvanized buckets. Clean modern lines contrast perfectly with distressed wood wall hangings and natural materials.
White bedding also works perfectly in a modern rustic bedroom. Be sure to pile on pillows and throws with plenty of texture to create warmth and a cozy sleeping environment.
Western & Southwestern Bedroom Ideas
A beautiful western bedroom should have a balanced combination of rugged elements such as rustic ranch furniture, southwestern textures and décor, without using too much of a heavy hand. A bedroom should be a relaxing retreat, and less is more when it comes to design. You'll sleep much better in a comfortable setting that is marked by simplicity.
That being said, items can be added in a subtle manner to achieve the western feel. Western style bedrooms can incorporate wood, stone, leather and metal as well as paintings and western artifacts. Given that western heritage has its roots in the ranching industry, furniture is generally oversized, comfortable and features leather and hides.
A signature piece of artwork can make a dramatic statement in your western or southwestern bedroom. Think about incorporating a large-scale painting wherever possible and pull out some of the colors in surrounding décor to pull the look together.
Be creative. Salvaged barn wood on just one wall can create a gorgeous backdrop for an antique iron bed. Barn doors can be re-purposed in doorways or used as headboards. Reclaimed wood furniture is also perfect for Southwestern bedrooms, as pieces are inherently rustic, primitive and add instant warmth. Salvaged wood beams add depth and character infusing a space with tranquil and natural beauty.
Don't overlook a well-chosen bed and rustic bedding as your bedroom's focal point. As with any style of bedroom , it's important to ensure to add plenty of throw pillows and blankets to provide an ultimately cozy and inviting space.
If you would like to read more tips on how to decorate rustic-style, please visit the Canadian Log Homes Blog.
SHARE THIS PAGE, CHOOSE YOUR PLATFORM
Summary
Article Name
Rustic Bedding & Rustic Bedroom Ideas
Description
Don't be misled into thinking that rustic has to conform to any specific formula. Rustic done right is rustic done your way, in a manner which will bring you a lasting appreciation for the lifestyle.
Author
Publisher Name
Publisher Logo