Southwest, Southwestern Rugs in Native American Styles
Infuse your living spaces with a touch of Southwestern flair to your home with a gorgeous southwestern rug.
Choosing the area rugs first is the perfect way to start the design process in your home. It helps to create a cohesive design by providing the opportunity to choose the colors to paint the surrounding walls as well as select coordinating window treatments and home accents.
The three images below show how easy it is to create a stunning southwestern palette that has a designer feel.

When the area rug chosen has bold colors and vibrant pattern it's best to integrate solid color furniture to avoid the room becoming too busy.
Elements include southwestern accents and motifs such as cacti, longhorn cattle, and cowhide as well as rustic furniture, leather, and copper.
Southwestern Decorating Ideas for the Living Room
The living room is the heart of the home and where most activities happen. A southwestern living room should be warm and inviting and be inspired by the warm shades of the Southwest.
Effective layering in any living room includes everything from textiles (pillows, area rugs, throws), lighting (overhead, table lamps, ambient features), furniture (sofas, chairs, coffee tables, accent tables), wall hangings (artwork, mirrors, photos), wall treatments (paint, wallpaper) and décor (vases, floral arrangements, books). All of this works to create a cohesive design, especially in a Southwestern home.
It's important to anchor the furniture with southwestern area rugs that will define the seating area. It's also a great way to introduce color and texture. Southwestern-style rugs can take on many different looks. Depending upon your preference, you can choose a rug with bold patterns and a blend of bright colors or choose one that is more subdued and neutral.
The desert-style can be achieved by including southwestern wall art, with everything from cacti to nature scenes. This look is earthy, and it's important to capture that in your living room with plants, stoneware, ceramics, live-edge wood and handwoven fabrics.
Be sure to include geometric patterns, leather and wood furniture, and a soft color palette with pops of colors and natural textures.
Modern Southwest Living Room
Today's trends are toward honest, individualistic, and easy-to-live-with. Style today doesn't subscribe to a formula. The West and Southwest have not disappeared from the scene. If anything, today's style brings fresh good looks, mix-and-match capabilities and the widespread appeal of sprawling land, blue skies, towering pines, and majestic vistas. You will find a wide variety of options for furnishing and decorating personalized, comfortable and appealing interiors.
Southwestern Decorating Ideas for the Bedroom
In order to add a southwest feel to a bedroom, I would highly recommend going with either Southwestern style bedding and a coordinating solid area rug, or a southwestern area rug and solid color bedding. If you choose the latter, you can add colorful pillows and a bed runner to tye the visual aesthetic together.
A southwestern scheme for your bedroom can make it feel spacious, tranquil and in harmony with nature. Be sure to blend in natural materials and warm textures to create a relaxing retreat.
Textiles such as rugs, spreads, throws and window treatments can provide a handwoven feel. As with any bedroom design, layering is essential to creating a cozy and inviting bedroom.
Choose wood furnishings with simple lines and sturdy construction.
Rustic Southwest Décor
Rustic Southwestern décor is all about bringing the outdoors in with natural elements that have a rugged feel. One or two pieces of unfinished wood furniture can anchor a space and set the tone for the design of the space. Rugs inspired by Native or South American art, geometric throw blankets, pottery, leather, cowhide, and wrought iron instantly add a desert feel.
What colors are considered Southwestern?
The desert & Southwest Style palette highlights the warm, earthy tones of sun-baked adobe homes, terra-cotta roof tiles and desert sands with just enough contrasting hues of green and gray to cool you off. A Southwestern palette can also include, coppers, umber, ochre, turquoise, silvers and grays. These rich colors reflect the beauty of the desert.
Tinted neutrals can be used for the walls such as dusted versions of olive or avocado. Brighter colors such as oranges, reds, and turquoise are reserved for furniture and accents.
Southwestern Area Rug Placement
The following images show the various configurations that work well in the placement of the area rug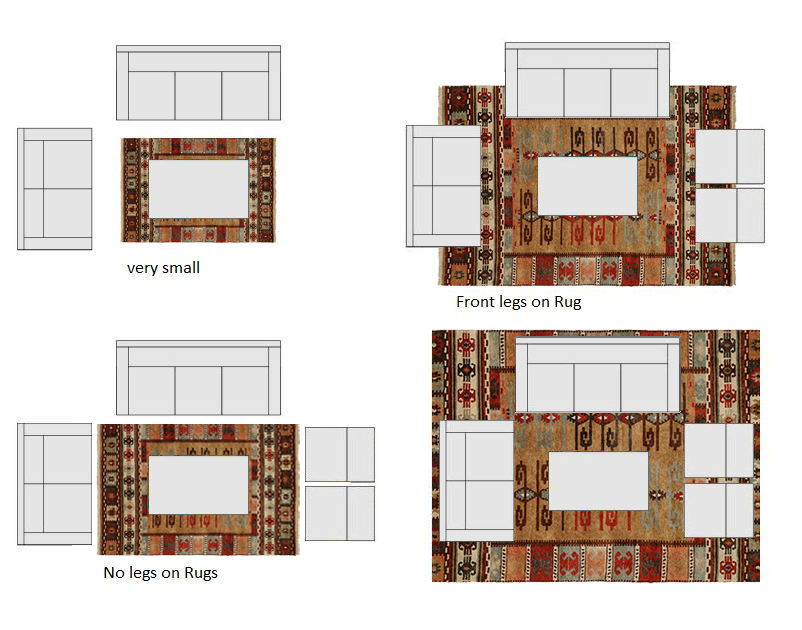 Southwestern rugs may have been around for centuries, but designers still currently use them to add southwestern elements to modern spaces. They not only suit log homes, rustic-style homes and cabins, they also work perfectly with a wide variety of other styles – from Farmhouse to Bohemian. A colorful southwestern rug instantly adds a pop of brightness to a neutral or minimalistic space.
Southwestern rugs in neutral tones in shades of gray, black or white work well in Farmhouse homes.  The subtle patterns act as a neutral–tying together a collection of eclectic furnishings–and simultaneously bring their own flavor to the mix.
Browse through a curated collection of Southwestern rugs inspired by antique textiles found throughout the Western States with diamond-shaped medallions that pay home to the region's majesty rocky peaks.
Handmade by master craftsman, these rugs offer beauty and durability at a great price. Rich in tactile appeal, these collections offer both luxurious comfort and versatility when working with a variety of decors.
Rich in tactile appeal, Southwestern rugs give both luxurious comfort and versatility regardless of the inherent design style of the space.
Southwestern Rug History
These stunning rugs with their intricately designed tapestries were also referred to as Navajo rugs as they were hand-woven by the Navajo peoples who resided in New Mexico, Arizona, Colorado and Utah. The Navajo are one of the largest recognized Native American tribes within the United States who, 500 years ago, made their home in the American Southwest. The vivid geometric patterns on highly-durable fabrics were renown throughout the Southwest.
They were initially used as cloaks and saddle blankets, and became of great interest to the 19th century traders who were drawn to their intricate artistry and striking geometric patterns.  As awareness increased, it turned into a trade and a flourishing business. Business flourished and blankets became less popular with rugs quickly gaining popularity.
Tourists from the rest of America, and beyond, began to travel to the Southwest in search of authentic souvenirs. The exotic designs caught on and remain popular to this day.
Article written by Interior Designer, Tracy Svendsen