HANDCRAFTED LOG HOMES
At Canadian Log Homes, we are proud to say we build handcrafted log homes using logs in their purest, most natural form. We do not use milled logs, where each log is a carbon copy of the next. Rather, each log in handcrafted log homes is as unique, in itself, as a snowflake. Why change what nature has already perfected? Handcrafted log homes incorporate the original and traditional methods of the log homes built by the early settlers with the latest technology available. In essence…a log home that does not compete with the natural beauty of a forest, but complements and reflects your chosen surroundings.
What is Included in Handcrafted Log Homes Packages:
All handcrafted log homes built using good quality winter cut house logs.
Log species determined by customer.
Each log hand peeled and full length scribed, using Norwegian Wedge Notch, Saddle Notch, or notch of your choice on corners.
All window and doorway openings cut to size, key-wayed and flared back.
All loft beams flattened on top to receive T&G flooring.
Upstairs balconies with log posts and railing.
Roof ridge log and purlins with correct roof pitch cut.
Interior and exterior of log package sanded.
4′-0″ overhang on gable ends and 2′-6″ overhang on pitch ends.
All exterior corners curled, sanded and chamfered.
Tennon and mortice log staircase with log railings and posts.
Log King post trusses.
Interior log railing with log posts.
All wall slots cut to receive interior wall finishing.
All thru bolts supplied on exterior corners.
All settling jacks supplied for main floor posts.
Log package to a minimum height of 9′-0″.
One man to supervise the re-assembly on your foundation.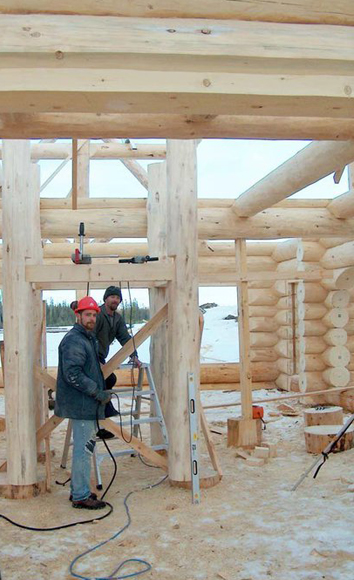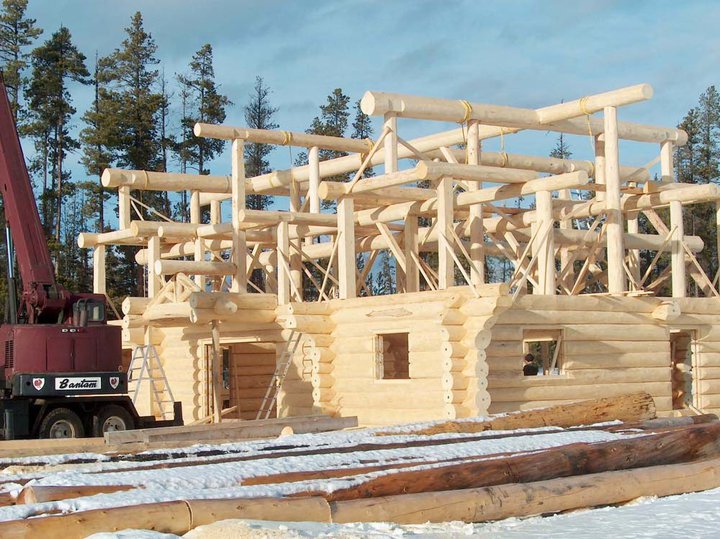 READ MORE ABOUT LOG HOME PACKAGES & KITS
Handcrafted log homes are becoming increasingly popular to those who not only love log homes, but specifically to those who prefer that the logs used to build their log home kits retain their natural size, shape and beauty. Handcrafted log homes are distinguished from manufactured through the use of whole round logs that are placed in the hands of skilled artisans, who have spent years perfecting their ability to cut, fit, scribe and notch each individually chosen log. By contrast, manufactured houses use logs that are cut, or planed to a specific standard size and shape where the goal is to control uniformity. Each log is a duplicate of the next. Due to this mechanical process, few of the true characteristics of the log remains, and each home built becomes a carbon copy of the next. With a handcrafted home, no two homes are ever the same.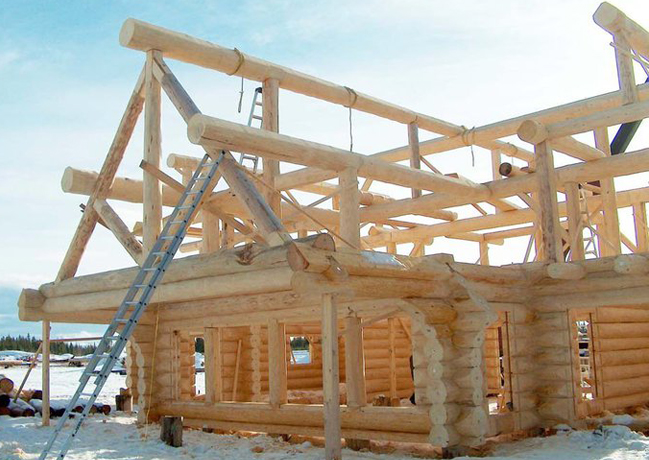 It takes longer to build handcrafted log homes due to the intense labour and skill involved. Handcrafters take great pride in their ability to cut and fit logs. Required is a significant understanding of all the properties and characteristics of wood in relation to their application to log homes. The log home builder must be able to handpick logs carefully for length, straightness and minimal taper. This can be a time consuming endeavor. It is also imperative that the owner of the log home company spend time in the construction yard on a regular basis, in order to constantly maintain quality.
100 Mile House, B.C. Canada has been called the "log building capital" of the world, due to the large number of handcrafted companies in the area. A direct result of this is many highly skilled log builders who are understandably competitive and proud of their work. Handcrafted log home companies tend to be much smaller operations than manufactured log home companies and prefer to avoid mass production of their buildings, as this directly affects quality.
Construction methods involve the use of hand-held tools to de-bark, cut and shape each lo