LOG CABIN HOMES CONSTRUCTION
Canadian Log Homes was established in 1989 and carries the signature of the highest quality and excellence in craftsmanship in log cabin homes.
The Process:
Logs arrive in the Construction Yard and are immediately spread out onto log decks and left to air dry naturally. We use winter harvested Engelmann Spruce, Lodge-Pole Pine, Douglas Fir and Red Cedar.
Logs are hand selected with consideration to size and appearance, and generally average 15″ to 20″ butt diameter with a 10″ to 12″ top-size. Log lengths can reach to 55′-0″. Smaller sizes are also available for traditional cabin design. Once selected, all logs are clean peeled by hand. All outer bark is removed, as well as any trace of the inner cambium layer that exists in the inner depressions of the log.
Log Cabin Homes – The Logs
Logs are then placed in the hands of an experienced Log Builder, who carefully selects each individual log for its own unique application to each home. The correct cut is determined, then full length scribed. Scribing is the process where the contours of the bottom log are duplicated to the underside of the log above.
Once the log shell is completed, all log ends are curled, sanded and chamfered. Window and door openings are cut to size. All openings and archways are then sanded to a smooth finish. All log roof purlins, floor joists and beams, once engineered, are supplied beyond the minimum standard. Log railing with posts and custom-designed tennon and mortice log stairways are included in our Log Package price.
Prior to disassembly for shipping, all logs are tagged and numbered for easy re-assembly on your foundation. A Canadian Log Homes representative will be on site to assist you in the re-assembly of your Handcrafted Log Package.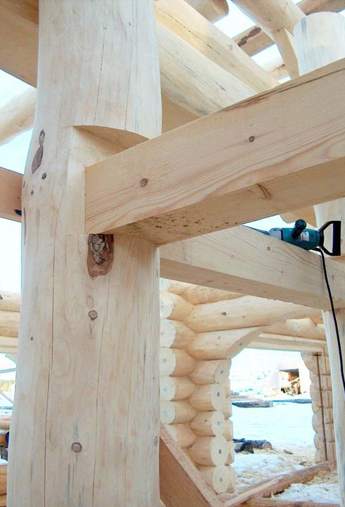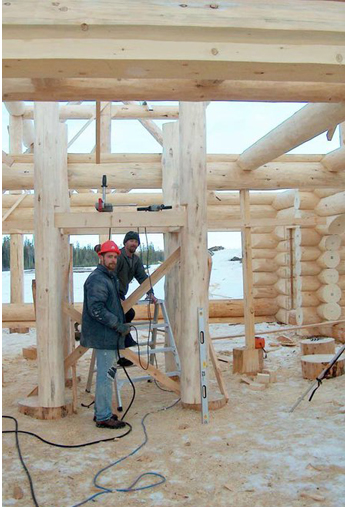 READ MORE ABOUT LOG CABIN HOMES
Choosing the Right Wood for Log Cabin Homes:
The decision in choosing the species of wood you would like your home built from, is often as difficult as choosing the right log home company to build your home. Each log home company will generally have a "preferred" species of building log. The preference can be based on a long term knowledge of the characteristics of one individual species, or due to the lack of availability of a wider variety of species in their particular location. If a species is requested by a customer for a building log, the company then has to have the wood shipped into their log yard, adding further costs to the log package. Preference can also be attributed to the lack of quality of a given species in certain regions as well. This can be confusing for customers, as each company does tend to have very strong opinions on what wood should be used in building their home. In the long run, it is your preference that counts.
Each species does have both pros and cons, and a general understanding of wood characteristics is beneficial in selecting the wood species for your own log home. Several characteristics to consider are appearance, resistancy to decay and insect, thermal qualities, workability, finish, as well as cost. Another important factor is the variance in color of heartwood and sapwood in the species available. At Canadian Log Homes we offer Engelmann Spruce, Douglas Fir, Western Red Cedar and Lodge-Pole Pine from British Columbia Canada.
The five major species that are indigenous to B.C. are Yellow Cedar, Western Red Cedar, Spruce, Douglas Fir and Pine. We do not offer Yellow Cedar due to its low availability and extremely high price.
Western Red Cedar Log Cabin Homes:
Western Red Cedar is one of the most sought after wood and is widely used for log homes. The heartwood is medium to dark coffee brown in color, with sapwood that is nearly white. The Western Red Cedar is slow growing, and as it is composed primarily of heartwood, has a high concentration level of both natural fungi and insect repellent toxins. It's bug resistancy makes this species preferably for export, especially to tropical climates. The grain is tight, but it is a softer wood. Western Red Cedar is one of the most expensive building logs on the market today.
-High resistancy to decay and damage
-Naturally resists insects and molds
-Light in Mass
-Best for wet climates
-very expensive.
Douglas Fir Log Cabin Homes
Douglas Fir is commonly used for log cabin homes, with only the second growth Fir being used for building logs. The second growth can be anywhere from 80-120 years old. Douglas Fir consists of a harder bark, which results in less marking during logging, as opposed to Western Red Cedar. Strong and beautiful, Douglas Fir can be noted as being one of the largest timber trees available and is valued as a great structural material as well as building material.
-Most commonly used
-less expensive than Western Red Cedar, but more costly than Pine or Spruce
-Moderate heartwood decay resistancy
-The heartwood is orange brown to deep reddish brown and sometimes yellowish brown
-The sapwood is nearly white
-Weight when dried is moderate
Engelmann Spruce Log Cabin Homes
Engelmann Spruce is very high in quality and generally offered at a reasonable price. It is less expensive than both Western Red Cedar and Douglas Fir. Engelmann Spruce is fine grained, very light in color, with minimal taper. As with Douglas Fir, it is available in very large diameters. A very important factor to consider is that Engelmann Spruce does have a resistancy to heartwood decay, although in a somewhat lesser degree than Western Red Cedar, but more than Pine or Douglas Fir.
-Light in color
-Light-weight and durable
-Heartwood is nearly white with a tinge of red
-The color of the Sapwood is not distinguishable from the heartwood
-Straight with minimum taper
-Resistance to heartwood decay.
Any species that do not contain natural toxins should be properly protected with wood preservatives.
SHARE THIS PAGE, CHOOSE YOUR PLATFORM